When it comes to celebrating the season of Christmas, there are many ways to do so. From setting up the Christmas tree to putting lights around the mantel, you have a few time honored traditions that you follow each year. This year, make Christmas flowers one of those ways to make your home special. You can always purchase flowers for Christmas for your own home, but many people also do so for their friends, sending a bouquet or a potted plant that will last throughout the season and bring a smile to everyone's face. There are a lot of Christmas flower ideas to take a closer look at, including these.
A Simple Bouquet
If you have a loved one that you want to send flowers to and you want to keep things pretty simple, consider a Christmas bouquet. A bouquet may come in a vase or wrapped lovely. The key here is that it is typically a grouping of flowers that creates a fun and beautiful display that can be placed just about anywhere in the home. You can choose from a wide range of options here, including those that offer some pretty impressive features and a bit of fun holiday character as well. Here are a few ways that you can make this a bit more special.
A Peppermint Bouquet is a fun design. It features just the right amount of red and white flowers, such as carnations, to create a sense of a peppermint candy so well known on this holiday. Add to that a beautiful red and white striped ribbon and a bright red vase, and you have a stunning option for the holiday table.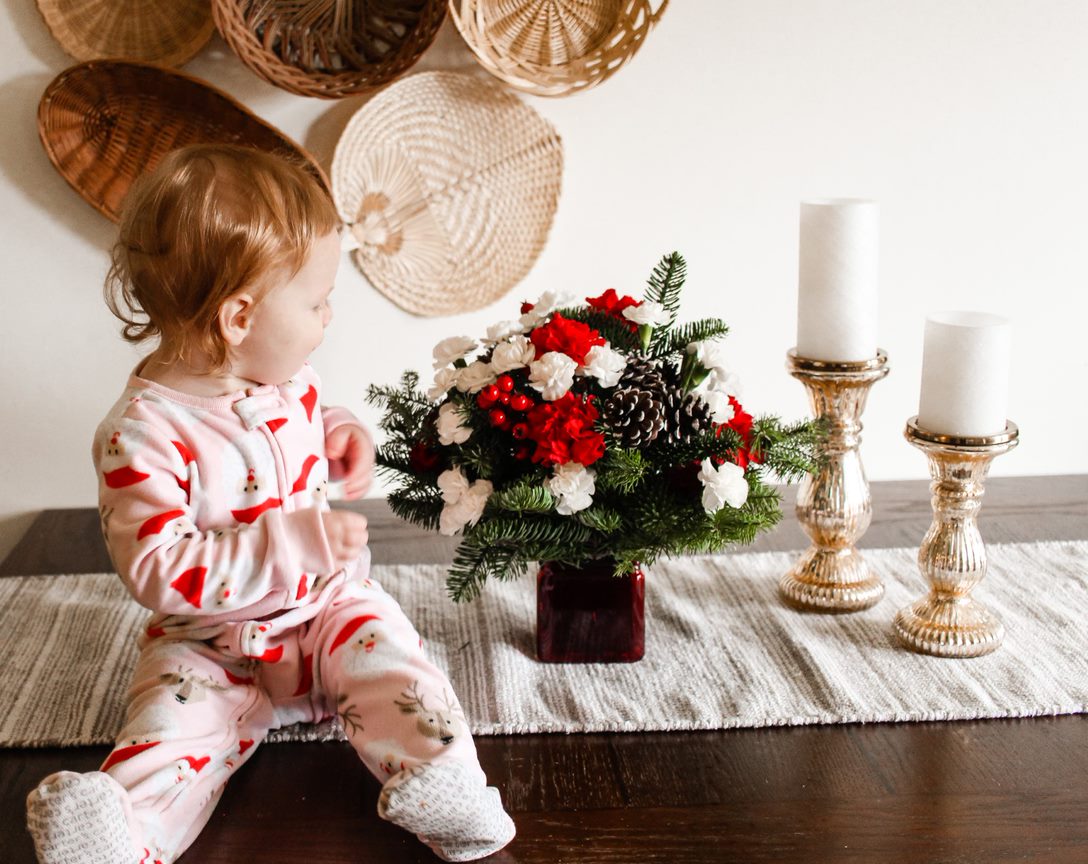 Another option is a simple Christmas Holly Hug Bouquet. It can provide you with a bigger range of flowers with the same white and red color combination, perhaps with a bit of fir tree mixed into it. With the addition of a few well-placed roses and a few frosted pine cones, and just a dash of holly, you have the perfect Christmas bouquet for the living room table. Make it as large and vibrant as you like. Choose from the range of Christmas flowers you love.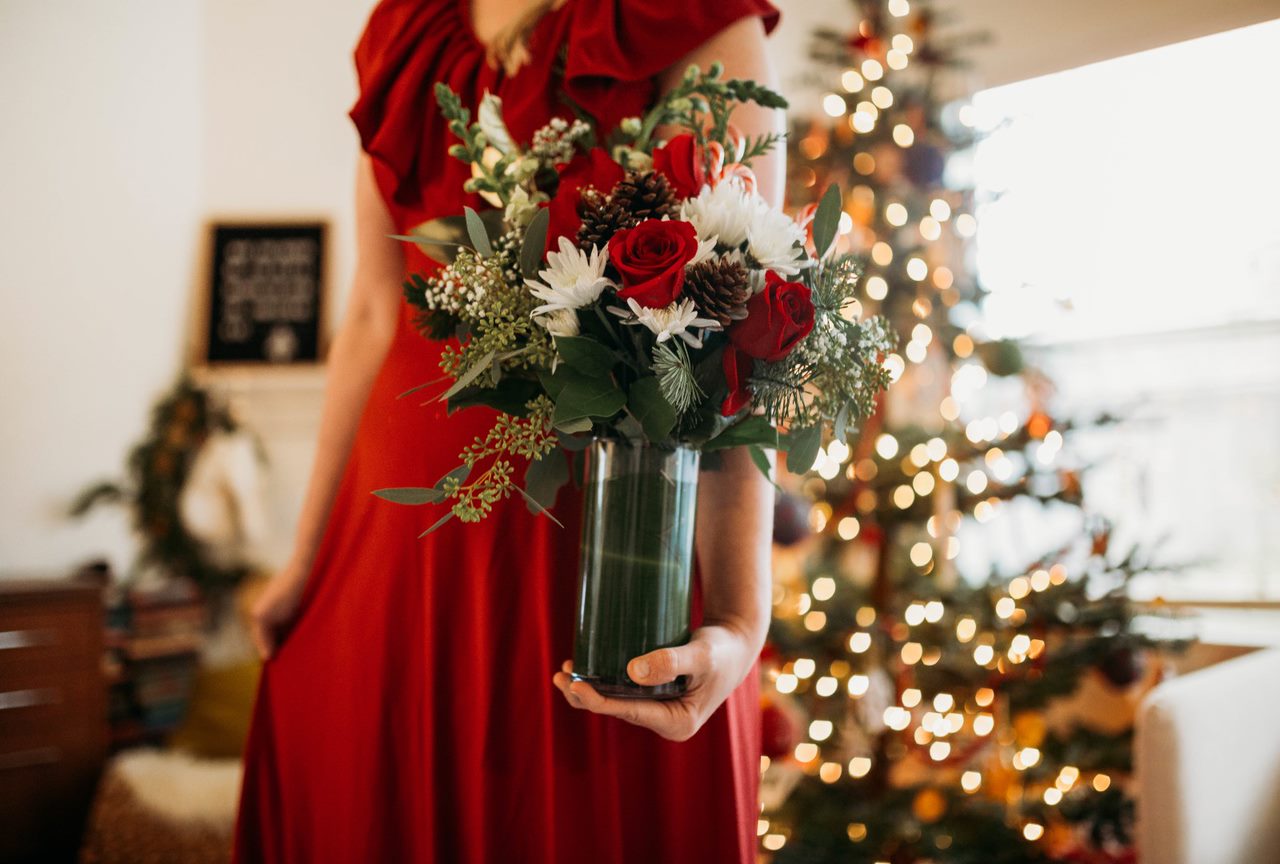 The Frosty Forest Bouquet is an excellent Christmas flower bouquet. It offers a beautiful mix of roses and white, stunning lilies that really capture the spirit of the holidays. There's just enough greenery added to it to make this a very special gift. A few jingle bells and pine cones with a bit of frosting on them help to make this bouquet an outstanding choice.
Take a look at the many other options out there. Some will include nothing but a fabulous set of red roses. Others can include candy canes and red and green ribbons. There's no doubt you can find something that appeals to your favorite things for the holidays with these Christmas flowers.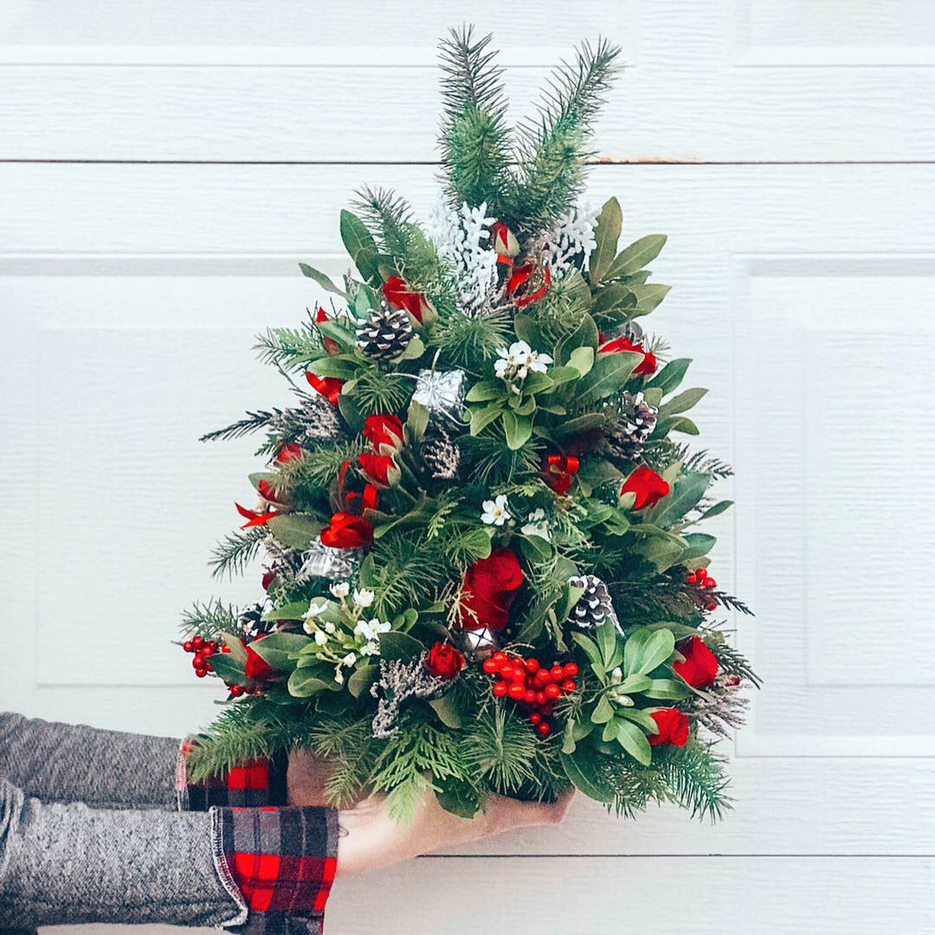 Mini Christmas Tree
Whether you have a loved one with a very small home or apartment, or you want to add a few more Christmas trees to your own home, consider the investment in an already-decorated mini Christmas tree. You can choose from several designs based on what works for you. Instead of lots of ornaments, your mini Christmas tree is decorated with just the right number of flowers.
For example, Oh Christmas Tree! is one of the options available to you from From You Flowers. It features a beautiful green background that helps to give the tree its shape. Then, there are vibrant roses placed around the tree in just the right place to create the look and feel of ornaments. There are a few ornaments on the tree, too, along with some baby's breath and other items to make it truly special. It's all topped with a bright red bow to give it all the charm it deserves.
A completely different option is the Golden Elegance Christmas Tree. It's also a mini Christmas tree but has a significantly different look. The tree features greenery to look like a traditional fir tree. Then, it is nearly covered with big, bright white lilies that are so important for this holiday. There are red and white flowers throughout it to create interesting dimensions and beauty 360 degrees around the tree. The beautiful gold stand also helps to give it that feel of a true Christmas tree.
These are just a few examples of the mini Christmas trees available. Find those that incorporate your favorite Christmas flowers into them for a truly magical experience this holiday. Anyone would love to receive one of these.
Poinsettia
There is no doubt that the poinsettia is the traditional flower of the Christmas holiday season. You can purchase a poinsettia to give to your loved ones in the traditional manner, or you can have it dressed up a bit to include a wide range of other flowers within it. Often, many of the Christmas flower bouquets and centerpieces available can provide a few poinsettias within it, allowing to bring this flower into the fold on any holiday.
Whether you choose a standalone poinsettia to have delivered to someone's home to carry on an important tradition or you want to add them to other floral arrangements, From You Flowers can help to make the entire process happen just the way you want it to.
Christmas Wreath
Another important type of flower for the holidays is the Christmas wreath. There are many different types of options out there that can create a stunning choice. You can give a wreath made of pine tree branches or those designed with other materials. The key here is to ensure you have the look you desire.
If you do not want the traditional wreath itself, take elements of the wreath and create a stunning stand alone floral arrangement. For example, our Home for the Holiday Basket incorporates many of the beautiful elements of a Christmas wreath but does so in a basket instead of the traditional wreath shape. There are many potential benefits to that, including the simple fact that it is likely to last longer and give you more versatility in where you place it. It still has the green foliage you want with some beautiful pine cones, berries, and ribbons, but it is significantly different and truly stands out.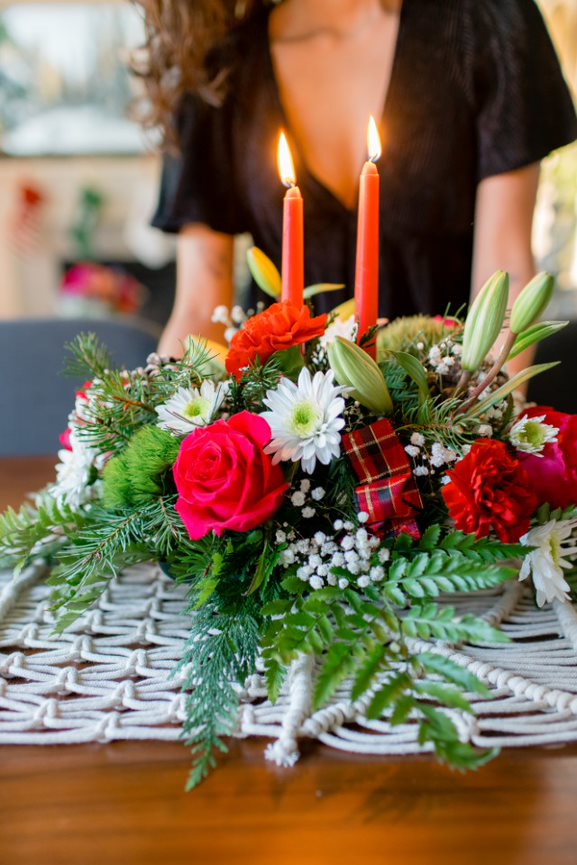 Christmas Centerpiece
At the heart of any table during the holiday season should be a Christmas centerpiece. It helps to set the mood for a holiday and really creates a memorable look. The key to remember is that there are a lot of fantastic options in Christmas flowers to choose from available to you at From You Flowers. Here are a few options to take into consideration.
Candy Canes n' Roses may be just what you need. A fantastic beautiful option for a Christmas centerpiece is Candy Canes n' Roses. It features a background of firs with frosted pine codes. Then, it has a few pops of red roses and white carnations, along with other flowers to it. And, to be true to its name, it also features several candy canes that help to bring a smile to anyone's face.
Rustic Christmas Centerpiece is another fantastic option that is perfect for the holiday dinner table. It features a base layer of pine branches to bring that evergreen feeling out. Then, it has a number of flowers included on top of the bed of pine, including roses, poinsettias, and much more. You'll find holly berries in it, ribbons, and at the center, two red candles. This makes the perfect expression of the holidays.
Finding the Christmas Flowers Right for You
Take a few minutes to check out the Christmas flower gifts available to you at From You Flowers, and you'll find a lot of additional choices available to you. Here are a few more ways to make sure this is a special gift that people simply love.
Consider a basket full of love. There are a few options available to fit this need. Instead of a traditional base, these come in a basket that adds a bit of rustic charm to the experience.
It doesn't all have to be red. Consider the Snow White Bouquet when you are looking for something that is beautifully white and crisp for the winter holiday.
Don't forget to add in the extras to make it truly a Christmas gift. That may include a stuffed teddy bear for a child, a box full of candy, or one of the numerous other additions you can add to the floral gift. This can help to make it a truly special gift.
There are a lot of ways to give gifts during the holidays, but doing so with the very best floral items can help to bring a smile to any space while it also works to brighten up the room. You can give these types of gifts to anyone from the neighbors to parents and perhaps even a second bouquet to add to your own home as well.